Cloud Security is a Shared Responsibility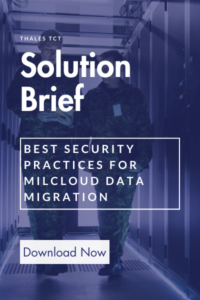 The Cloud Security Alliance emphasizes the importance of shared responsibility in its latest Security Guidance v4.0. Shared responsibility means that Cloud Solution Providers (CSPs) own the responsibility to secure the infrastructure that runs their cloud services. Data owners are responsible for protecting the confidentiality, integrity, and availability of their data in the cloud.
Securing data in the cloud properly requires that data owners own—and can prove that they own—their data, from inception to deletion. That means that data owners—not their cloud provider—must protect their sensitive data by deploying a cloud security ecosystem where data and cryptographic keys are secured and managed, and access is controlled.
RISK FACTORS
Human Error. CSPs offer varying security controls and multi-cloud means learning new policies and cloud- and identity-security solutions.
Vulnerabilities. Bugs happen whether on-premises or in the cloud.
Insider Threat. From CSP infrastructure administrators to internal administrators with elevated privileges in the cloud, insiders pose a threat. Admin credentials are often targeted and compromised. Remember, event with certain types of encryption, privileged users can see data in the clear for all users.
Protecting the Keys to the Kingdom. The cryptographic keys used to encrypt and decrypt data require enhanced control and separation between encrypted data in the cloud and the keys. If these keys are compromised, encrypted data can be exposed.
CLOUD SECURITY BEST PRACTICES
Data owners need to directly manage, if not own, their encryption to ensure that their data is protected as it is stored in and moves to and from the cloud.
Data owners need to own the generation and administration of the cryptographic keys used to encrypt data in the cloud.
Data owners need to ensure that only validates and authorized users can access sensitive data in the cloud.
Data owners need cloud independent security solutions that can be applied across private, hybrid, public, and multi-cloud environments
Thales TCT Solutions to Protect YOUR Data in THEIR Cloud
Thales TCT offers cloud independent encryption, key management, and authentication solutions that enable organizations to safely store sensitive data in the cloud. Our solutions allow customers to effectively manage their security when working in different environments, across different platforms and with multiple cloud providers.