Streamline Cloud Key Management Services Across Multiple Clouds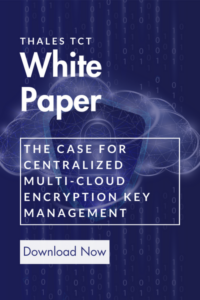 For virtually every organization today, the adoption of multiple cloud services continues to expand. A growing number of organizations are aware of the Shared Responsibility Model for cloud security, with its definitive statement that across all cloud consumption models: Infrastructure as a Service (IaaS), Platform as a Service (PaaS) and Software as a Service (SaaS), cloud consumers are responsible for the security of their data stored and used in the cloud.
Cloud Providers increasingly offer their own encryption services as a convenience to their customers. Meanwhile, the imperative for customer management of cloud provider encryption keys is growing as fast as cloud consumption. A growing number of cloud providers offer "Bring Your Own Key" (BYOK) services and Hold Your Own Key (HYOK). BYOK and HYOK enable customer-controlled cloud key management.
CipherTrust Cloud Key Manager from Thales combines support for cloud provider BYOK APIs with corresponding services supporting HYOK, cloud key management automation, and key usage logging and reporting, to provide cloud consumers with a cloud key management services that delivers strong controls over encryption key life cycles for data encrypted by cloud services.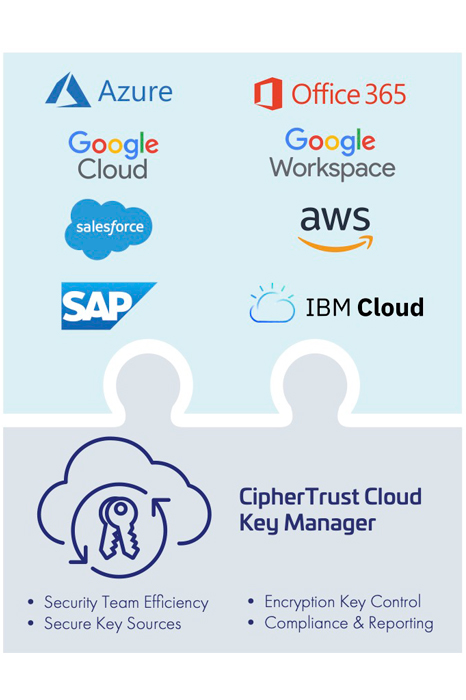 CipherTrust Cloud Key Manager supports a growing list of IaaS, PaaS and SaaS providers. SaaS solutions include Microsoft Office365, Salesforce.com and Salesforce Sandbox. as well as the SAP Data Custodian. Supported IaaS/PaaS solutions include Microsoft Azure, Microsoft Azure Stack, IBM Cloud, Google Cloud Platform, and Amazon Web Services.
Enjoy Enhanced IT Efficiency
CipherTrust Cloud Key Manager centralizes encryption key management from multiple environments, presenting all supported clouds and even multiple cloud accounts in a single browser tab. Advanced cloud key management services and capabilities include automated key rotation, key expiration handling, and cloud key vault synchronization, together, dramatically reducing the time required for cloud key life cycle management. CipherTrust Cloud Key Manager goes well beyond support for BYOK and HYOK with full key lifecycle management of native cloud keys as well as keys generated by its key sources.
Gain Strong Key Control and Security
Bring and Hold Your Own Key (BYOK and HYOK) services enable customers to separate key management from provider-controlled encryption, offering a crucial layer of separation of duties and control. CipherTrust Cloud Key Manager delivers key generation, separation of duties, reporting, and key lifecycle management that help fulfill internal and industry data protection mandates, with optional FIPS 140-2-certified secure key sources.
Fulfill Best Practices
Separating encryption key control from data encryption and decryption operations delivers compliance, best security practices and control of your data. Gain operational insights on encryption key usage with dashboards, reports and logs provided by CipherTrust Cloud Key Manager.
Meet Organizational Needs with Flexible Deployment Options
CipherTrust Cloud Key Manager is available in multiple form factors to meet any organization's needs. Both CipherTrust Cloud Key Manager and its key sources are available in all-software, cloud-friendly offerings and may be found in several cloud provider marketplaces for fast instantiation. Further, deployment and operation in any cloud prevent cloud provider access, and, keys can be managed in the cloud in which the solution is deployed as well as any other reachable, supported cloud.
Integrates With Your Automation Initiatives
In addition to its internal automation features which themselves provide crucial IT efficiency gains, operations for both CipherTrust Cloud Key Manager and its key sources may be fully implemented through RESTful API's.
Comprehensive Key Management
BYOK: Deploy CipherTrust Cloud Key Manager with any number of keys already created at the cloud provider. Create cloud-native keys in the cloud console as needed. CipherTrust Cloud Key Manager will automatically synchronize, at intervals you can define, its key database with the provider's. Key attributes such as expiration rules and usage options are all maintained. You can request creation of cloud-native keys, as well as upload BYOK-keys, from the CipherTrust Cloud Key Manager console. If cloud provider rotation rules for native keys are insufficient, you can rotate keys under the control of CipherTrust Cloud Key Manager.
HYOK: CipherTrust Cloud Key Manager supports many emerging HYOK offerings: Salesforce Cached Keys, Google Cloud External Key Management (EKM) and Google Workspace Client-side Encryption.  HYOK is provided by services that respond to encryption key requests from cloud providers.
CipherTrust Cloud Key Manager goes well beyond Cloud Bring Your Own Key: It is a comprehensive cloud key life cycle manager.
Key Life Cycle Automation
With the click of a button or an API request, keys are marked for automated key rotation. From then on, CipherTrust Cloud Key Manager performs key rotation automatically with comprehensive logging for IT efficiency and enhanced data security. Key rotation may be specified for keys without expiration dates, or specifically for keys to be rotated prior to their expiration dates. Multiple schedules per cloud are available.
Key Rotation is use-case-dependent.  Consult your cloud provider for information on whether you preferred data stores support key rotation.
Strong Encryption Key Security
BYOK and HYOK require secure key generation and storage.  CipherTrust Cloud Key Manager leverages the security of CipherTrust Manager, Thales Luna Network HSM or the Vormetric Data Security Manager to create keys. Secure storage is provided for clouds that deliver backup keys which can mitigate accidental key deletion in cloud consoles. You control full key metadata control during upload and for keys in use.
True Multi-Cloud Support
CipherTrust Cloud Key Manager supports:
Amazon Web Services (AWS)
AWS GovCloud
Microsoft Azure
Azure Stack
Azure GovCloud
Google Cloud Platform
Google Workspace Client-side encryption
Salesforce.com
Salesforce Sandbox
SAP Data Custodian
IBM Cloud (Key Protect)
IBM Cloud (HPCS)
The Compliance Tools You Need
CipherTrust Cloud Key Manager has the full range of logs and reports you need for fast compliance reporting, including per-cloud operational logs and a range of pre-packaged key activity reports.
Support for Emerging Technologies
CipherTrust Cloud Key Manager supports many fast-emerging technologies. Here are some examples:
| Image | Title | Link |
| --- | --- | --- |
| | Best Security Practices for milCloud Data Migration Solution Brief | |
| | CipherTrust Cloud Key Manager Product Brief | |
| | CTO Sessions On Demand: Protecting Your Data in Their Cloud (On Demand Webcast) | |
| | Microsoft Azure Advanced Data Protection Solution Brief | |
| | White Paper: Best Practices for Secure Cloud Migration | |
| | White Paper: The Case for Centralized Multicloud Encryption Key Management | |