Thales TCT Luna PCIe Hardware Security Module
Luna T-Series models offer secure storage of your cryptographic information in a controlled and highly secure environment. All Luna T-Series models can be initialized by the customer to protect proprietary information by using either multifactor (PED) authentication or password authentication.
Industry Leading Performance & Security
Industry leading cryptographic performance
Performance optimized for government mandated algorithms and key lengths
Up to 10 times the performance as compared to Luna PCIe for Government
Keys-in-hardware approach protects the entire life-cycle of keys within the FIPS 140-2 validated confines of the HSM
Addresses compliance requirements with FIPS 140-2 Level 3 certification
Approved by CNSS for use in National Security Systems PKI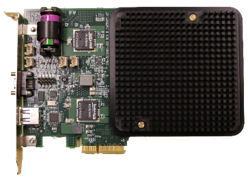 Crypto Agility
Thales TCT's Luna HSMs employ a crypto agile architecture that supports in-field introduction of new crypto algorithms. The Luna HSMs offer large amounts of memory (inside the crypto module) to support growth to larger key sizes. The Luna HSM's CPU capabilities support new, compute intensive algorithms and features.
Post-Quantum Cryptography (PQC) Algorithms
Thales TCT's Luna HSMs pre-standards implementations of NIST-selected PQC algorithms to facilitate agency and technology partner PQC testing. As a crypto agile product, Thales TCT will release software and firmware updates that comply with PQC standards once they are released.
Additionally, Thales TCT introduced the Leighton-Micali Signature (LMS) stateful hash-based signature mechanism, along with its multi-tree variant, the Hierarchical Signature Scheme (HSS). LMS/HSS enables customers to transition to quantum-resistant firmware/software signing in accordance with CNSA 2.0. Thales TCT's Luna HSM implementation of LMS is compliant with SP 800-208 and PKCS#11 v3.1.
Quantum Enhanced Keys
By embedding a quantum random number generator (QRNG) chip within the Luna HSM, Thales TCT is offering the industry's first FIPS 140-2 compliant HSM capable of generating quantum enhanced keys. Using principles of quantum physics, the QRNG chip produces high quality entropy which is the basis for all random numbers and cryptographic keys generated by the HSM.  With a choice of operating the HSM in FIPS-approved mode using either the embedded, classic physical RNG or the embedded quantum RNG, customers can dynamically change between classical key generation and quantum enhanced keys as threats emerge over time.
Easy Transition for Deployed Solutions
Backward compatible with deployed applications
Zero changes required to applications integrated with Luna PCIe for Government
Migrate keys from Luna PCIe for Government to T-Series HSM
Broad Integration Ecosystem
Large number of integrations with industry-leading technology vendors
Documented, out-of-the-box integrations
Video tutorials expedite integration tasks
Security First Company
Trusted supplier to U.S government for several decades
HSM products are U.S designed, developed and manufactured
All employees are U.S citizens
All office locations in U.S.
All support requests answered from U.S. (no outsourcing or foreign call centers)
U.S. government approved Trusted Technology Import process
Follow security best practices for all product introduction
Available Models and Performance
Full support for NSA Commercial National Security Algorithm (CNSA) Suite

Support for FIPS-approved and NIST recommended algorithms, modes, curves, and key sizes for RSA, DSA, Diffie-Hellman, AES, SHA-2, SHA-3 and Elliptic Curve Cryptography (ECC)


Pre-standard PQC algorithms CRYSTALS-Dilithium (ML-DSA), CRYSTALS-KYBER (ML-KEM), FALCON (NL-DSA), LMS/HSS

NIST 800-90A compliant Hardware Random Number Generator
Classic hardware RNG entropy
Quantum RNG entropy


Additional non-approved algorithms and key sizes are supported for use with legacy applications

Refer to product documentation for complete details

Supported Operating Systems

Windows Server: 2012R2, 2016, 2019

Linux: RHEL / CentOS 7, 8. Ubuntu 18, 20. Oracle Linux 7.9

Approved by CNSS for use in National Security Systems PKI

Dimensions: Full Height, Half Length 4.2"x6.6"

Host Interface: PCIe Gen 2 x4List Item 3

Power Consumption: 20W maximum, 10W typical

Temperature: operating 0°C – 50°C, storage -20°C – 60°C

Safety and Environmental Compliance

Mean Time Between Failure (MTBF) 250,821 hrs

HSM Battery Minimally Expected Lifetime: 10 Years