Thales TCT Luna PCIe Hardware Security Module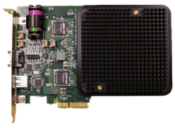 Luna T-Series models offer secure storage of your cryptographic information in a controlled and highly secure environment. All Luna T-Series models can be initialized by the customer to protect proprietary information by using either multifactor (PED) authentication or password authentication.
INDUSTRY LEADING PERFORMANCE & SECURITY
Industry leading cryptographic performance
Performance optimized for government mandated algorithms and key lengths
Up to 10 times the performance as compared to Luna PCIe for Government
Keys-in-hardware approach protects the entire life-cycle of keys within the FIPS 140-2 validated confines of the HSM
Addresses compliance requirements with FIPS 140-2 Level 3 certification
Approved by CNSS for use in National Security Systems PKI
UPGRADE DEPLOYED CRYPTOGRAPHIC MODULES
The T-Series of Luna PCIe HSMs was designed from the ground up as a drop-in replacement for the widely deployed Luna PCIe for Government HSMs. Using state of the art technology, the Luna PCIe HSM provides an order of magnitude improved performance compared to the Luna PCIe for Government while still providing the industry leading security features that government customers have relied on for decades.
QUANTUM ENHANCED KEYS
By embedding a quantum random number generator (QRNG) chip within the Luna HSM, Thales TCT is offering the industry's first FIPS 140-2 compliant HSM capable of generating quantum enhanced keys. Using principles of quantum physics, the QRNG chip produces high quality entropy which is the basis for all random numbers and cryptographic keys generated by the HSM.  With a choice of operating the HSM in FIPS-approved mode using either the embedded, classic physical RNG or the embedded quantum RNG, customers can dynamically change between classical key generation and quantum enhanced keys as threats emerge over time.