Thales TCT Luna Hardware Security Modules
Protect Root Encryption Keys used by Applications and Transactions from the Core to the Cloud to the Edge.
Hardware Security Modules (HSMs) are dedicated crypto processors designed to protect the cryptographic key lifecycle. HSMs serve as trust anchors that protect an organization's cryptographic infrastructure by securely managing, processing, and storing cryptographic keys inside a hardened, tamper resistant device.
Luna T-Series HSMs are the choice for government agencies when storing, protecting and managing cryptographic keys used to secure sensitive data and critical applications. Meeting government mandates for U.S. Supply Chain, the high-assurance, tamper-resistant Luna T-Series HSMs are designed, developed, manufactured, sold, and supported in the United States.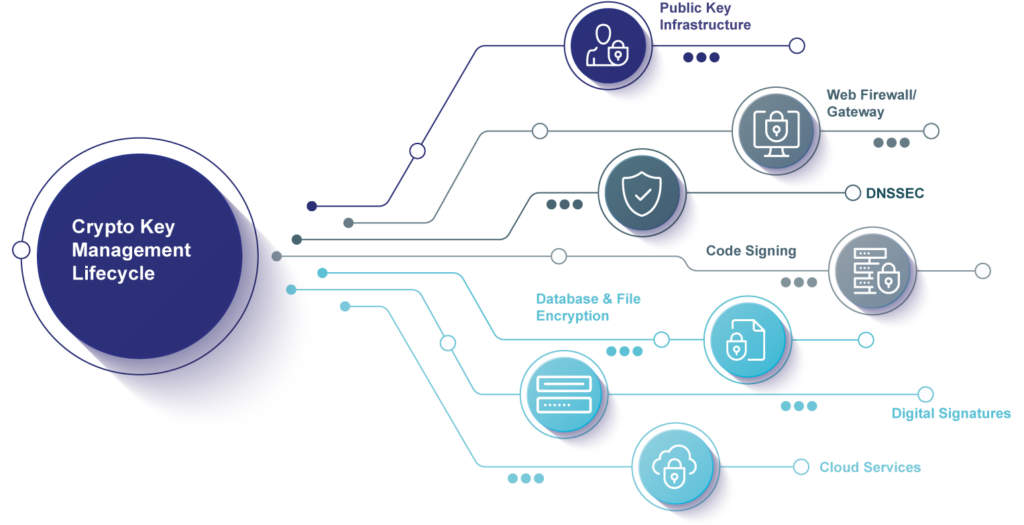 Security First Company
U.S. Foundation (development, manufacturing, personnel, facilities)
Strong security practices
Security and Compliance
Address compliance requirements with FIPS 140-2 L3 and CNSS Approval
Keys and certificates automatically generated and stored in hardware
Scalability and High Availability
Ability to have multiple applications share the same hardware
Easy to add new applications – no new HSM required
Ability to cluster HSMs to avoid single point of failure
Government Approval & Reference
CNSS approval for TCT HSMs on National Security Systems
NCCoE reference architecture for TLS Server Certificate Management
Trusted supplier to U.S. Govt.
Partner Ecosystem
Out-of-the-box integrations with their applications
Existing integrations that align with partner's future plans
LUNA PCIE
T-2000 & T-5000

LUNA NETWORK HSM
T-2000 & T-5000

LUNA G5 &
BACKUP HSM

LUNA as a SERVICE

Embedded HSM that protects cryptographic keys and accelerates sensitive cryptographic operations
Network-attached HSM that protects encryption keys used by applications in on-premise, virtual, and cloud environments
USB-attached HSM that is ideal for storing root cryptographic keys in an offline key storage device
Cloud-based HSM delivered through XTec's FedRAMP High authorized AuthentX Cloud
Use Case: Securing Custom Applications
Use Cases: PKI, SSL/TLS, Code Signing, Certificate Signing and Validation, Document Signing Transaction Processing, DB Encryption, Smart Card Issuance
Use Case: Offline Root CAs
Use Case: Cloud Smart Root-of-Trust, Anchoring Applications Across Multiple Cloud Providers
Learn More
Learn More
Learn More
Learn More