SafeNet eToken 5110 Series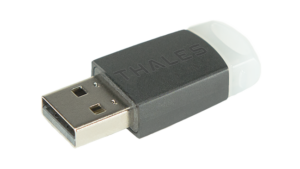 To protect identities and critical business applications in today's digital business environment, organizations need to ensure access to online and network resources is always secure, while maintaining compliance with security and privacy regulations. SafeNet eToken 5110 offers two-factor authentication for secure remote and network access, as well as certificate-based support for advanced security applications, including digital signature and pre-boot authentication.
Two-Factor Authentication you can Trust
SafeNet eToken 5110 is a portable two-factor USB authenticator with advanced smart card technology. Certificate-based technology generates and stores credentials-such as private keys, passwords, and digital certificates inside the protected environment of the smart card chip. To authenticate, users must supply both their personal SafeNet eToken authenticator and password, providing a critical second level of security beyond simple passwords to protect valuable digital business resources.
Benefits
Improves productivity by allowing employees and partners to securely access corporate resources
Enables advanced certificate-based applications, such as digital signature and pre-boot authentication
Portable USB token: no special reader needed
Simple and easy to use – no training or technical know-how needed
 Enhance marketing and branding initiatives with private labeling and color options.
Supported Applications
Strong two-factor authentication (phishing – resistant)
Secure remote access to VPNs and Web portal
Secure network logon
Email encryption
Digital signing
Pre-boot authentication
Technical Specifications

SafeNet eToken 5110+ FIPS

API & standards support

• BaseCSP minidriver (SafeNet minidriver)
• Global Platform 2.2.1
• Java Card 3.05
• ISO 7816

Memory size

Supported operating systems

Dimensions

ISO specification support

Support for ISO 7816-1 to 4 specifications

Operating temperature

0º C to 70º C (32º F to 158º F)

Storage temperature

-40º C to 85º C (-40º F to 185º F)

Humidity rating

0-100% without condensation

Water resistance certification

USB connector

USB type A; supports USB 1.1 and 2.0 (full speed and high speed)

Casing

Hard molded plastic, tamper evident

Memory data retention

Memory cell rewrites

On-board security algorithms

• Symmetric: AES—For secure messaging and 3DES for Microsoft Challenge/Response only
• Hash: SHA-1, SHA-256, SHA-384, SHA-512.
• RSA: up to RSA 4096 bits
• RSA OAEP & RSA PSS
• P-256 bits ECDSA, ECDH. P-384 & P-521bits ECDSA, ECDH
• On-card asymmetric key pair generation (RSA up to 4096 bits & Elliptic curves up to 521 bits)

Security certifications

Smart Card Platform