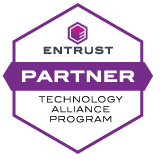 ABOUT ENTRUST
Entrust keeps the world moving safely by enabling trusted identities, payments and data protection around the globe. Today more than ever, people demand seamless, secure experiences, whether they're crossing borders, making a purchase, or accessing corporate networks. With our unmatched breadth of digital security and credential issuance solutions, it's no wonder the world's most entrusted organizations trust us. For more information, visit www.entrust.com.
SOLUTION
Entrust Certificate Authority provides easy management of the digital keys and certificates that secure user and device identities in an X.509 Public Key Infrastructure (PKI). Deployed at the server-level, it enables permission management, digital signatures, digital receipt, and encryption across a wide variety of enterprise applications. Critical to the security of the entire PKI is the protection of the private keys in the embedded Certificate Authority hierarchy. Entrust and Thales TCT have teamed up to offer a high performing solution for the U.S. Federal Government that integrates the best of both companies' security technologies to ensure trusted identity, signing and encryption, while knowing your privates keys are safe and secure. With Thales TCT's Luna family of Hardware Security Modules, private keys are protected with a dedicated appliance validated to FIPS 140-2 Level 2 and 3.
ADDITIONAL RESOURCES
Thales TCT is a member of Entrust's Technology Alliance Program.